On this episode of Momentum: A Race Forward Podcast, Marsha Guthrie, Deputy Director of Race Forward's Government Alliance on Race and Equity's Network Strategies, and Dr. Maria Cole, co-founder of Common Purpose, come together to share their experiences organizing in Florida for free and honest public education. 
We begin with a powerful testimony from a student that has been directly impacted by the targeting of AP African American studies in the Florida school system, and then Marsha and Dr. Cole talk about the "summer of action" that launched a local effort to fight the weaponization of curriculum and education –– the consequences of which are being felt across the nation every single day. 
In the backdrop of Florida Governor Desantis' latest efforts in targeting statewide curriculum in public schools and higher education, Marsha and Dr. Cole talk about the importance of organizing deliberately, the implementation of strategies that create a visibility of the groups being affected, and building power through local elections and partnerships with elected officials. 
*This episode is being released just weeks after President Biden issued his second executive order mandating racial equity across the federal government. This second EO calls for sustained, long-term plans and efforts to ensure equitable outcomes for all. 
Resources (by order of mention)
Race Forward Commends Biden Administration On Release of Second Historic Racial Equity Executive Order 
Ron DeSantis's war on "woke" in Florida schools, explained (via Vox) 
What Florida's Stop Woke Act Means for Schools, Businesses, (via Time Magazine)
The controversy over AP African American studies, explained (via Vox)
Organizers are Fighting Ron DeSantis's Educational Bans with Free Books (via Teen Vogue) 
Jacksonville [faith] leaders join rally in Capitol after Black history class revised amid Gov. DeSantis criticism (via News4Jax)
HEAL Together Race Forward 
https://www.raceforward.org/heal-together
Executive Producers: 
Hendel Leiva, Cheryl Cato Blakemore
Assistant Editor: Kendy Solis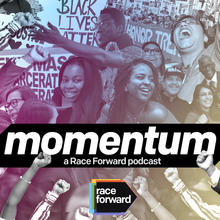 Photo credit (small photo in upper right):
Pax Ahimsa Gethen / Wikicommons
Momentum: A Race Forward Podcast features movement voices, stories, and strategies for racial justice. Co-hosts Chevon and Hiba give their unique takes on race and pop culture, and uplift narratives of hope, struggle, and joy, as we continue to build the momentum needed to advance racial justice in our policies, institutions, and culture. Build on your racial justice lens and get inspired to drive action by learning from organizational leaders and community activists.