On the season finale, writer, comedian, podcaster, activist, and Emmy Award-nominated host Baratunde Thurston brings us to the home stretch while providing all the laughs! 
Baratunde joins Chevon and Dennis to talk about his early career having worked at the intersections of standup, tech, and activism as a Black man, and how those experiences have shaped his current work on the topics of race, technology, democracy, and climate. He also shares his insights on being a multifaceted creator, the balance of "bringing your whole self to the workplace" as a person of color, and his take on "weaponing discomfort" and "defining white supremacy" to expose the underlying layers of how it's been maintained. Check out the Resources below for information on how to keep up with Baratunde and his upcoming projects, including his podcast "How To Citizen with Baratunde" and the new six-part PBS series, "America Outdoors with Baratunde Thurston".
Chevon and Dennis talk about shows that have centered race over the past year  and give praise to the writers, producers, and organizations working to move the needle on representation. Among the many shows they mention are The Watchmen, Lovecraft Country, and Falcon and the Winter Soldier. 
Finally, two big announcements: Dennis has taken on a new position at Race Forward as our Vice President of Narrative, Arts, and Culture, and also we've opened registration for our #RaceAnd: Our Present, Our Future youth oriented event taking place on September 25th! 
Thank you for listening to Season 2 of Momentum: A Race Forward Podcast, and stay tuned as we're looking forward to even bigger things for Season 3 premiering this fall! 
Check out all the episodes from Season 1 and 2, and rate, subscribe, and share –– we're on Apple Podcasts, Spotify, and Pandora!
Resources (by order of mention)
'Lovecraft Country' Creator Aims To Reclaim The Horror Genre For People Of Color (via NPR)
'Minari' Star Yuh-Jung Youn Makes Oscar History
'Falcon and the Winter Soldier' Reckons with an American Burden (via The Hollywood Reporter)
Grey's Anatomy recap: Police brutality and racial profiling take center stage (via Entertainment Weekly) 
Color of Change 
https://hollywood.colorofchange.org
Center For Cultural Power 
BUILD 
Baratunde Thurston
Podcast: How To Citizen 
www.baratunde.com/howtocitizen
Website
PBS and Twin Cities PBS Announce New Series, America Outdoors With Baratunde Thurston 
Ted Talk: How to deconstruct racism, one headline at a time 
Facebook
Instagram 
Twitter 
Executive Producers: 
Hendel Leiva, Cheryl Cato Blakemore
Associate Producer/ Editor: 
Kendy Solis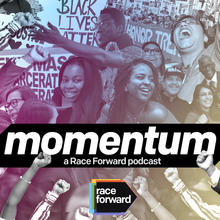 Photo credit (small photo in upper right):
Pax Ahimsa Gethen / Wikicommons
Momentum: A Race Forward Podcast features movement voices, stories, and strategies for racial justice. Co-hosts Chevon and Hiba give their unique takes on race and pop culture, and uplift narratives of hope, struggle, and joy, as we continue to build the momentum needed to advance racial justice in our policies, institutions, and culture. Build on your racial justice lens and get inspired to drive action by learning from organizational leaders and community activists.